Prostate Cancer - Turning Life Inside Out
Last updated: December 2020
Each man's prostate cancer journey is different, and treatment experiences and challenges may not be the same. Yet there are plenty of stories that resonate with members of our community letting us know that common elements of the journey also exist.
In order to garner a better understanding of both the similarities and the points of divergence of men living with prostate cancer, Health Union, LLC conducted a large survey of men and their caregivers. In this survey, participants were asked many questions about what it's like living with prostate cancer. Over 950 people completed the survey. Here are some highlights of what men living with prostate cancer had to say.
From invisible symptoms to diagnosis
Of the 928 men who completed the Prostate Cancer in America survey, 61% were not symptomatic at diagnosis. These men had gone to their healthcare provider (HCP) for an appointment that was for another medical reason, rather than suspected prostate cancer. Thus it is no surprise that men may be shocked and not prepared for test results that indicate a potential problem with their prostate.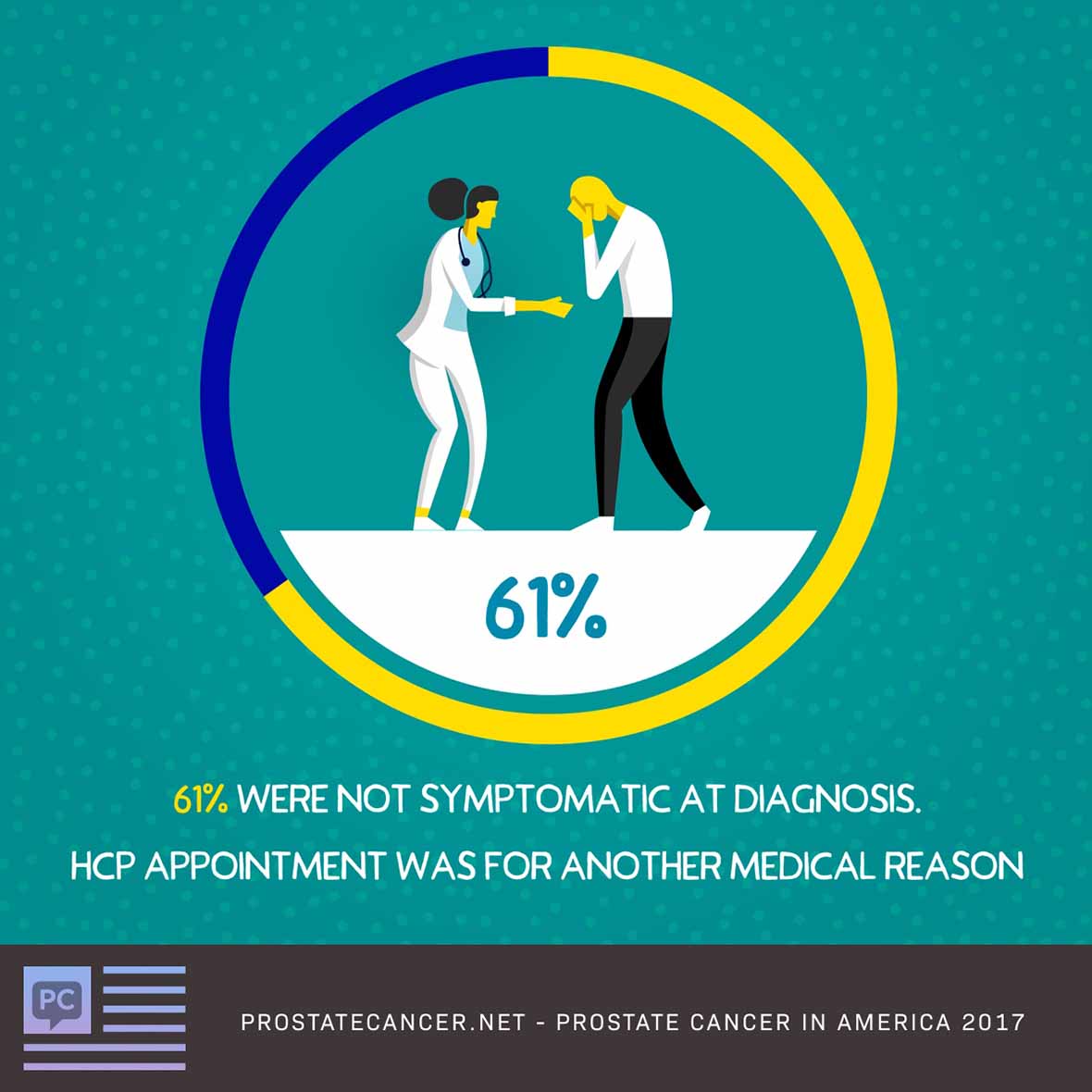 The journey--on the inside
Men start their journey with prostate cancer when they get a diagnosis. Similar to other types of cancer, men who are diagnosed with prostate cancer are diagnosed at various stages of cancer.
About one-third of men are diagnosed within each of the 3 main groups based on stage. Among men who took the survey:
35% were diagnosed with localized or early stage prostate cancer (Stage I)
31% of men were diagnosed with cancer that has spread minimally out of prostate gland (Stage II)
33% were diagnosed with advanced or metastatic prostate cancer (Stages III and IV)
Another 12% of men who were surveyed did not know or did not remember their initial stage.
In addition to stage, of course, men are given a biopsy in order to calculate a Gleason score. The Gleason score is used along with other diagnostic information to help the HCP further determine the likelihood that the prostate cancer is an aggressive form of prostate cancer that spreads more quickly.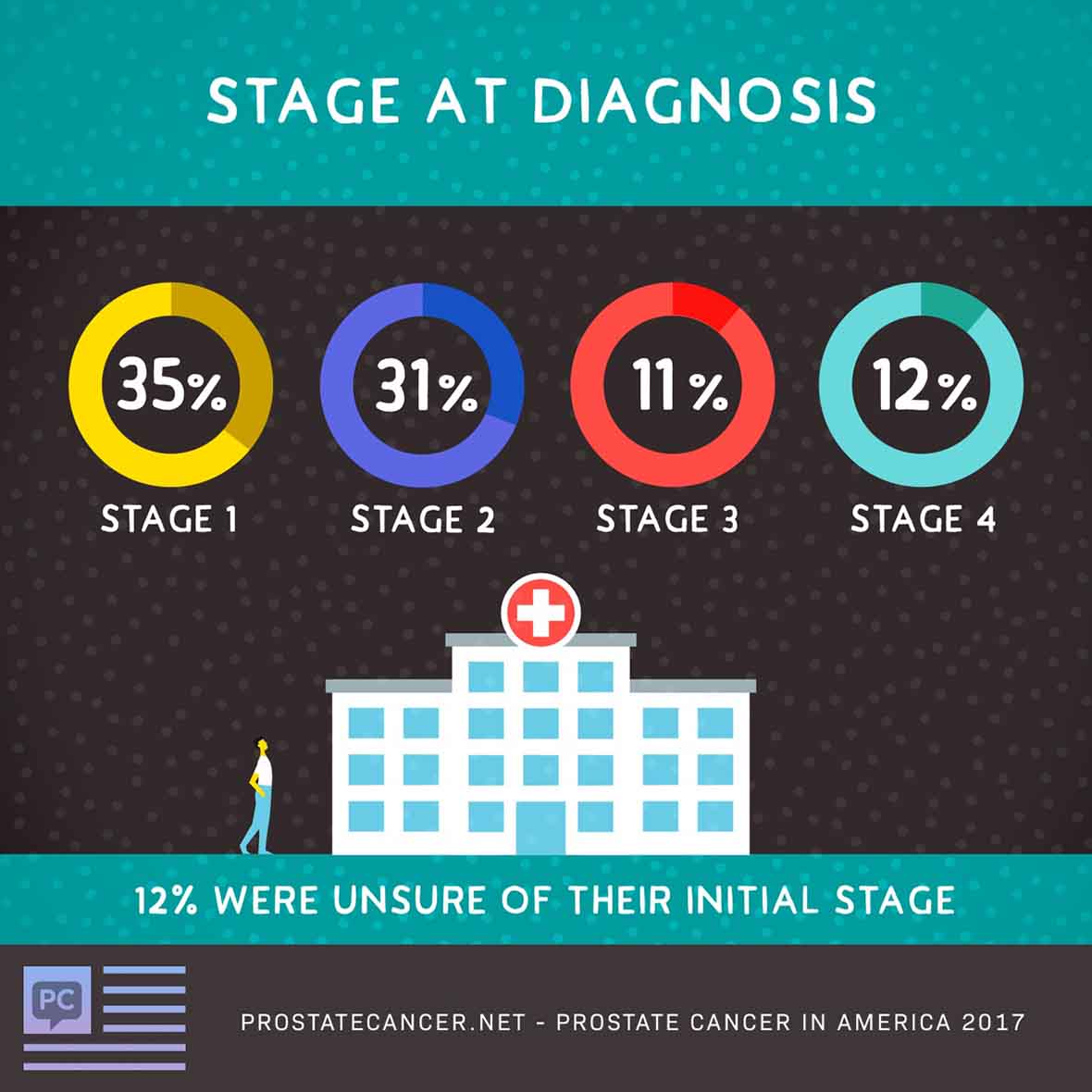 After diagnosis, men with prostate cancer should be given adequate information to begin discussion of treatment options with their healthcare team. This process should include understanding treatment options and the common side-effects or complications that might come with a particular treatment option.
The typical prostate cancer journey doesn't end with treatment, however. While 38% of men who took the survey are in remission (they have no evidence of disease or an undetectable PSA level), 14% have had at least one recurrence of prostate cancer since their original diagnosis.
Impact on quality of life
In order to determine if the prostate cancer treatment has been successful, and to monitor for potential cancer spread, 71% of men had follow-up tests and scans at least twice a year. This level of follow-up is obviously important to effectively managing prostate cancer over the long haul. Yet it also means that the fear of cancer progression or recurrence is always in the back of the mind of men with prostate cancer. This adds to the anxiety and emotional impact associated with prostate cancer.
The impact of prostate cancer and treatment itself on men's quality of life can be pervasive and overwhelming. In addition to the fear of cancer progression or recurrence mentioned above, men often struggle with a lack of energy, problems with sex life, and feeling sad. The side effects of prostate cancer treatment can be significant, and pain (which is both a symptom and a possible side effect) can keep men from doing things they want to do.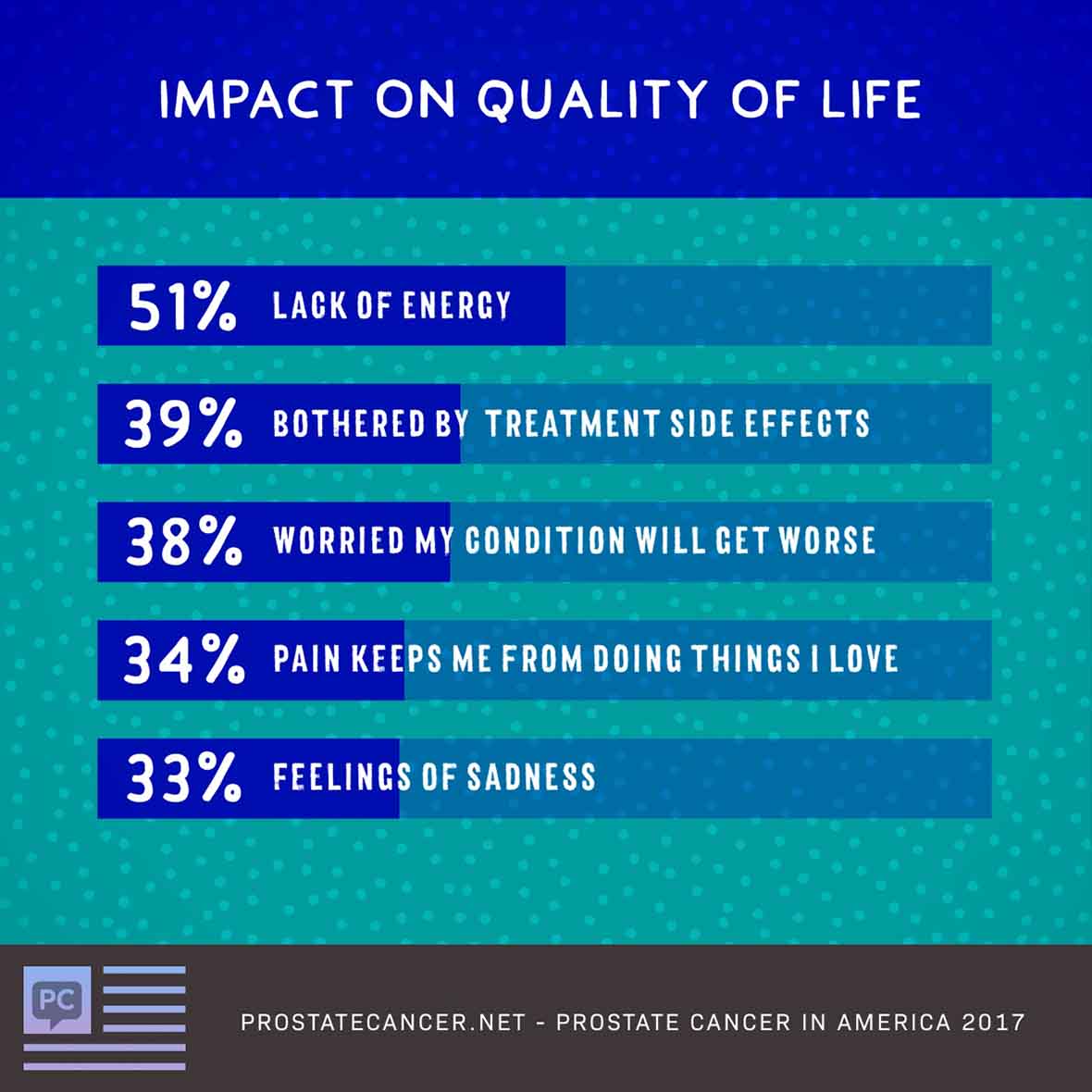 Daily life challenges
The are many symptoms and side effects of prostate cancer treatment that affect the daily life of men with prostate cancer. The side effects that occur most frequently may also mean that men struggle with coping. While the emotional toll may be internal, ways of managing these symptoms may be visible to others or require men to tell others about their prostate cancer. In this way, men can begin to feel that their life is turned inside out as they start to grapple with a "different self" post–diagnosis.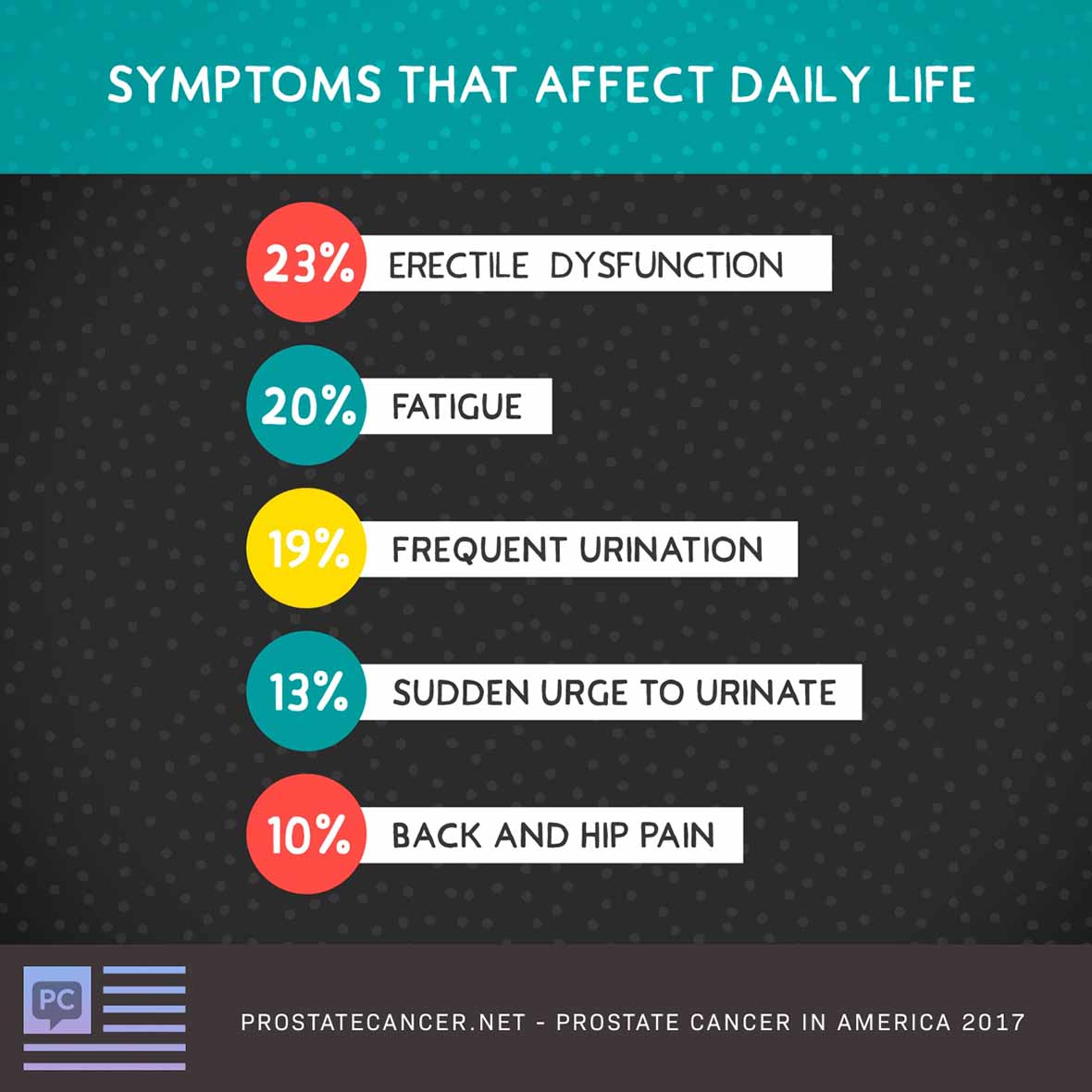 What frustrates you the most?
When asked in the survey "what frustrates you the most," not surprisingly, men cited sexual problems as the number-one concern, followed by bladder or bowel issues, fear of not knowing the future, and no longer feeling like a man. Other frustrations that were identified by men who completed the survey (not shown in the graphic) include dealing with pain, fatigue, and difficulty with doctors.
"Not feeling like a man" is a big part of men having to grapple with a "different self" post–diagnosis. Questioning one's identity and how one feels may be a new experience for many men. Most men will need time to resolve the emotional aspects with how they are they are feeling physically, and how they relate to others like a spouse or family members.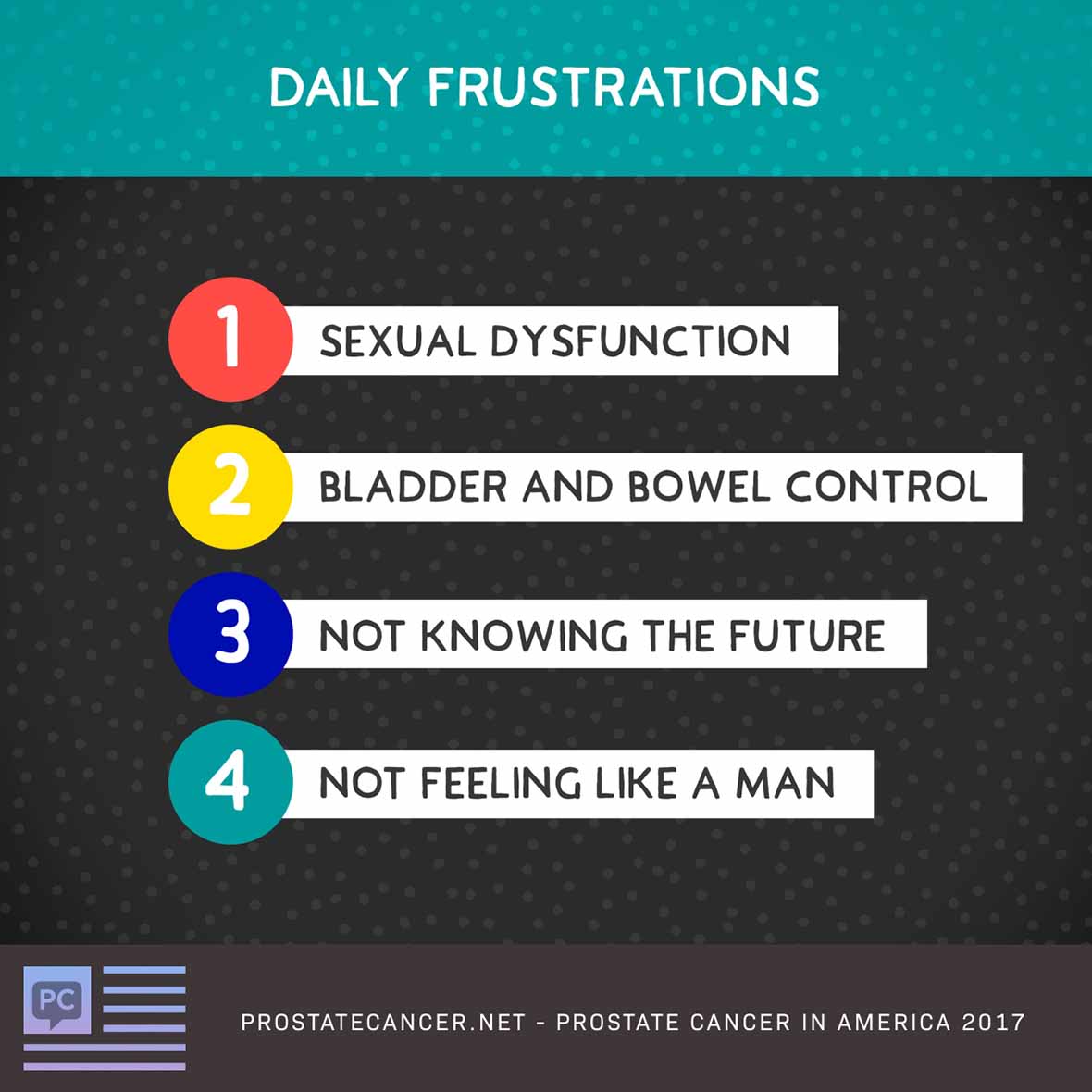 Prostate cancer in a word
Men who took the survey were also asked, "if you could describe prostate cancer in ONE WORD, what would that one word be?" The most frequent responses are shown in the graphic below.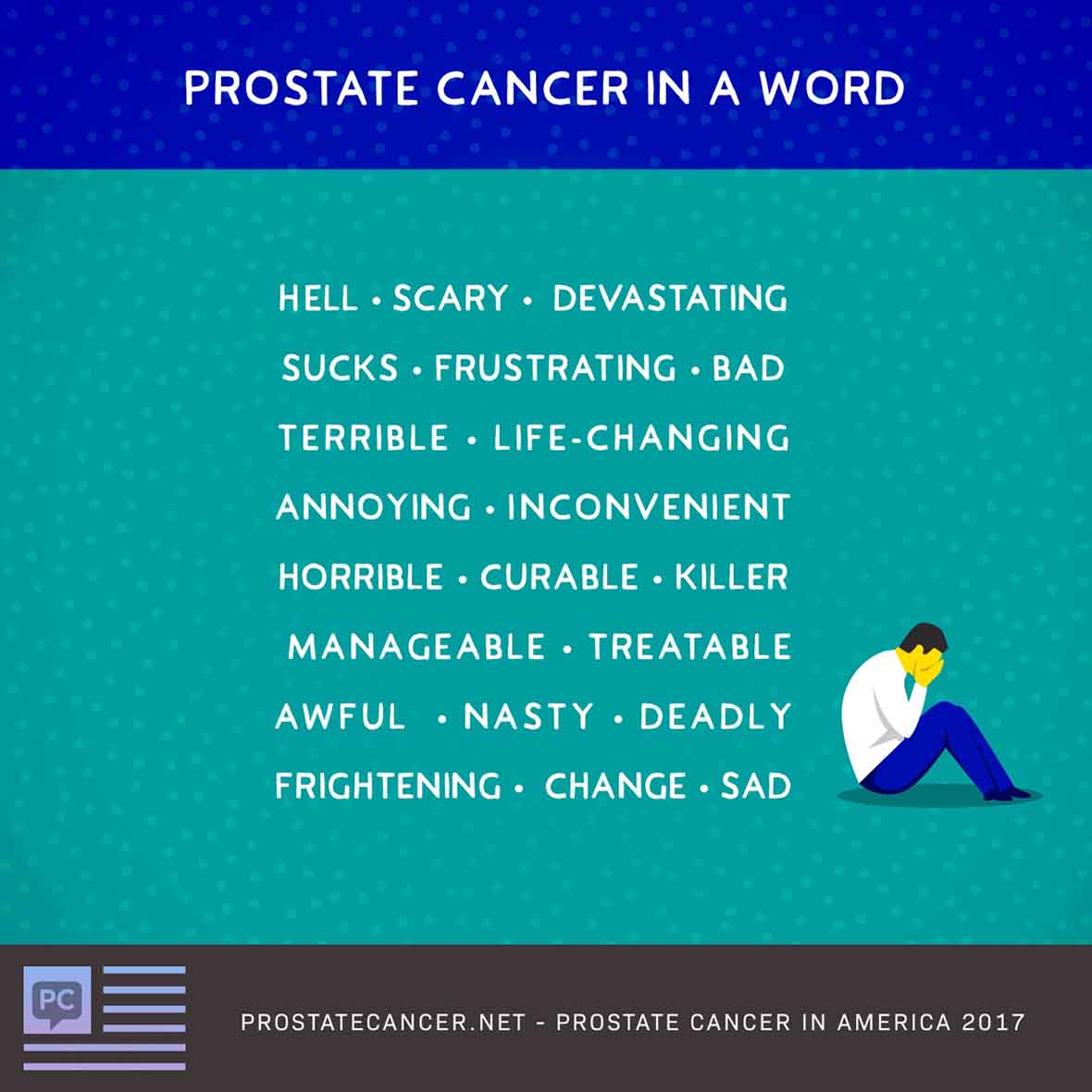 The Prostate Cancer in America 2018 survey was conducted online between October 19, 2017, and January 31, 2018. Of the 953 people who completed the survey, 928 were men who had been diagnosed with prostate cancer and 25 were caregivers of men living with prostate cancer.

Community Poll
What emotions have you experienced from your prostate cancer journey? (select all that apply)