African Caribbean Cancer Consortium Conference on Prostate Cancer Advocacy and Survivorship
The African Caribbean Cancer Consortium is hosting a conference at Drexel University (Behrakis Grand Hall, 3210 Chestnut Street Philadelphia, PA 19104) from May 20-21, 2019. The conference is free and open for patients and professionals to attend. Please join us!
African Caribbean Cancer Consortium
The mission of the African Caribbean Cancer Consortium (AC3), is to study viral, genetic, environmental, and lifestyle factors for cancer risk and outcomes in populations of African descent. AC3 consists of three connected networks of investigators from the U.S., Africa, and the Caribbean islands. Currently, there are more than 120 members. AC3 is a broad-based resource for education, training and research on etiology, screening, prevention, treatment and survivorship related to cancer disparities affecting populations of African descent. Since 2008, we have had NIH-supported biannual Scientific and Training Conferences in an effort to sustain our activities, existing collaborations and the development of new collaborations. Prior support has facilitated the development of several research studies, and over 50 publications.
What is the conference about?
The purpose of this conference is to build on the local, national, and global outreach efforts of AC3. The over aching aim is to prevent premature prostate cancer deaths and excess suffering in the Black community, and to reduce the burden of prostate cancer in men and their families through outreach, awareness, and advocacy. Participants will have the opportunity to:
Share their prostate cancer experiences and unmet needs with other survivors and their family members.
Strategize about practical and culturally sensitive ways to decrease prostate cancer disparities.
Develop skills to become prostate cancer educators and advocates.
Form a Black Prostate Cancer Alliance, to foster ongoing peer support and advance regional efforts to decrease prostate cancer disparities.
Conference participants also will contribute to a directory of prostate cancer resources.
Conference agenda
This innovative format brings together cancer survivors, their families, and advocates. The format will address community education and prostate cancer advocacy through peer-discussions and community research dissemination. Altogether, activities will raise awareness about the value of prostate cancer prevention, treatment, and survivorship; as well as promote knowledge-transfer among prostate cancer survivors and their families that will inform treatment decisions, survivorship, and promote resilience during prostate cancer recovery.
Who will be speaking?
The organizing committee is multi-institutional and multi-sectoral, representing scientists, advocates, and prostate cancer survivors. Speakers have been selected based on their credentials and expertise. The Speakers Committee is led by Dr. Charnita Zeigler-Johnson identified regional and national speakers and workshop leaders from Philadelphia's cancer centers (Kimmel Cancer Center at Thomas Jefferson University, Fox Chase Cancer Center, and the Abramson Cancer Center at the University of Pennsylvania), Lincoln University (local HBCU), and the Office of Community Health Workers at the University of Pennsylvania.
Goals for the future
Leading up to and at the close of this conference we anticipate the following outputs:
Post-conference publication on prostate cancer resiliency
Development of a small handbook for Black men diagnosed with prostate cancer. The handbook will include a list of key questions that every patient should ask their doctors after diagnosis
Meeting report disseminating the accomplishments of the conference
Directory of prostate cancer resources
Formation of a Black Prostate Cancer Alliance
If you're interested in attending the conference, you can register by emailing: sdrequa@gmail.com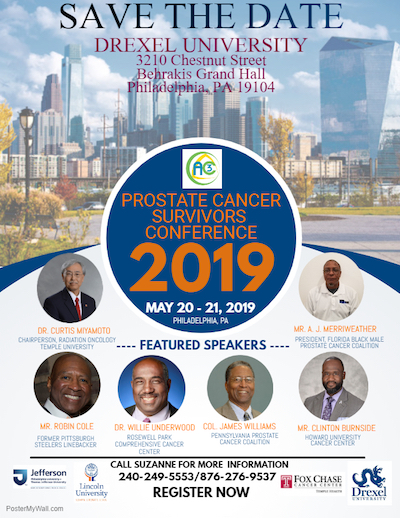 This article represents the opinions, thoughts, and experiences of the author; none of this content has been paid for by any advertiser. The ProstateCancer.net team does not recommend or endorse any products or treatments discussed herein. Learn more about how we maintain editorial integrity
here
.

Community Poll
Have you had urinary control since prostate cancer surgery?