Prostate Cancer Awareness, Every Day
The more you say it, the crazier it sounds. Prostate Cancer Awareness Month? I couldn't be unaware if I tried!
Any day is for prostate cancer awareness. Heck, every day can involve prostate cancer awareness. Talk to someone about testing, treatment, and side effects. Celebrate each day that you made it through prostate cancer, or are living in spite of it.
If you're not ready to be done, continue the conversation with these stories and question submitted during awareness month...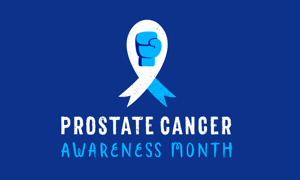 Three new prostate cancer stories:
The Roller Coaster Ride of Prostate Cancer
petenoel talks about dealing with aggressive prostate cancer and hormone therapy.
Active Surveillance But Rising PSA
Danb talks about moving PSA numbers and confusion around being on Finasteride. See the comments for his update!
Prostate Cancer
nalon112 talks about getting back to life after a prostatectomy and being grateful for no spreading.
Five new Q&As:
Thanks to everyone who joined the conversation and community this month. Let's continue this discussion and support all year long.

Community Poll
Have you made personal connections through your journey with prostate cancer?