Two Partners, Two Cancers: How We're Coping
Last updated: November 2018
Editor's Note: This article was originally shared by our sister site, LungCancer.net, and was written by Anita Figueras. Anita was diagnosed with stage IV lung cancer in 2014, and here she talks about supporting her husband following his prostate cancer diagnosis.
According to the National Cancer Institute, 38.5% of men and women will develop cancer of some kind during their lives.1 That's a huge number of people, so a situation where both husband and wife have cancer at the same time is certainly possible. That is where my husband and I find ourselves since his diagnosis with stage II prostate cancer this past fall, while I was on my fourth line of treatment for stage IV lung cancer.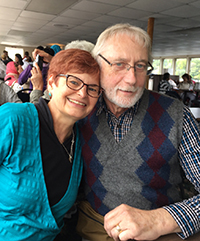 In theory, Robert's cancer is straight-forward as cancers go, with well defined standard treatments and an 80-90% chance of cure. In reality, finding information and making decisions for his situation is as difficult as it is for mine. He has quiescent ulcerative colitis, and that has caused a couple of his doctors to question his preference for radiation over surgery. He has been in a holding pattern on an anti-androgen therapy as we sort out the best treatment for him. Nothing is easy when it comes to cancer! Thank goodness we are both retired now, as juggling the responsibilities of work with the demands of two cancers would be very difficult.
We're learning how to manage our situation as we go. Here are some tips we have picked up.
Everything goes on everyone's calendar.
Back in the day when we had two jobs and two cars, I took care of my business and Robert took care of his. Now we make sure that every appointment is on both of our calendars. It is too easy for appointments to conflict, and we both need to be available to support each other when we go to see our doctors. Plus we have only one car now, making it very difficult for us to be in two different places at the same time.
The concept of patient/caregiver doesn't work very well when everyone is sick.
We are both patients and both caregivers now. Rather than taking turns, we are simply functioning as a team. There will be days ahead when we are both fatigued and feeling the side effects of our treatments, and we will muddle through those days together.
Whatever role you play in your cancer, you will play much the same role in your partner's cancer.
In my case, I'm the one who does the research and who takes notes when meeting with my doctors. Robert has read up on his cancer and his treatment options, but I'm often still the main researcher when we encounter a question, and I'm the one taking notes when we meet with his doctors.
Difficult emotions will arise.
We have been operating for some time with the assumption that Robert will outlive me, and he finds the thought of being alone even harder to accept now, because he feels like he will be damaged goods when he is done with his treatment. As for me, I confess that I have felt bad because he will most likely be cured while I most likely will not. Having thoughts that we are not proud of is part of being human, and I'm not dwelling on those fleeting twinges of envy.
Everyone deserves the best treatment possible.
No one settles for less than optimal treatment just because it might be more convenient. Robert has been by my side as we have traveled to Buffalo and New York City so that I could be in clinical trials and consult with doctors who specialize in lung cancer. We will travel for his treatment as well if it turns out that his best option is a specialist at a major cancer center.
Buff up that support network, because the probability you will need it has increased.
We're fortunate to have friends who housesit when we travel, kids who are ready to help as needed, and friends who are willing to travel with us to medical appointments if necessary. We are likely to need their help more than ever in the next several months while we are both undergoing treatment.
Keep on enjoying life together.
Do the things you like to do together, take care of business together, find time to relax together. Dealing with two cancers takes time and energy, but most days there will still be many hours when your life will go on as it had before. Those are the best hours of the day, when cancer does not dominate your life.
This article represents the opinions, thoughts, and experiences of the author; none of this content has been paid for by any advertiser. The ProstateCancer.net team does not recommend or endorse any products or treatments discussed herein. Learn more about how we maintain editorial integrity
here
.

Community Poll
What emotions have you experienced from your prostate cancer journey? (select all that apply)