Prostate Cancer Awareness Month 2020: Elevate Your Voice!
For Prostate Cancer Awareness Month 2020, we want to "Elevate Your Voice!" encouraging you to advocate for yourself with your healthcare team and raise awareness about prostate cancer in your everyday lives. We've heard you say knowledge is power, early screening and diagnosis are critical, getting a second opinion makes a difference, and advocating for the best treatment to fit your unique treatment goals are essential in your battle.
Throughout the month, we will be sharing your stories! How do you make a difference in the fight against the common enemy, prostate cancer? Here are three ways to spread the word:
1. Help us make a difference & enter to win
For this Prostate Cancer Awareness Month, we are doing things a little differently. Enter our 2020 giveaway for a chance to win our Make A Difference package! The winner will receive:
A donation to a prostate cancer nonprofit organization of the winners choice made by ProstateCancer.net in their honor
A customized prostate cancer treatment journal
Extra entries are offered for submitting your prostate cancer story.
2. Connect with others in the community
Add your voice to the discussion
Throughout the month, you can ask questions and offer support in our community Q&As as well as participate in our forum discussions. You can also read and comment on other people's stories. Click the question, forum, or story title and hit "Comment" or "Reply" to share your thoughts with the community.
Share your prostate cancer story
Whether your story is about efforts raising awareness about prostate cancer, advocating for yourself with your healthcare, or about your prostate cancer journey, we want to hear from you. To reach a broader audience, your story may be featured in our Facebook community or weekly Newsletters. Tell us your story by heading to ProstateCancer.net's story submission page.
3. Spread the word on social media
Add our custom frame to your current Facebook profile picture!
Click on the image below
Click on the Tweet below & follow us on Twitter!
Some men experience #symptoms before a #prostatecancer diagnosis, and some don't. Did you notice any symptoms before your #diagnosis? Share in the comments.

— ProstateCancer.net (@Prostate_HU) July 15, 2020
Click on the picture below & follow us on Instagram!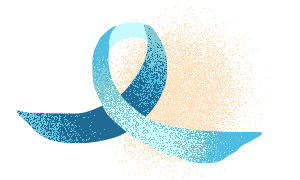 Community Poll
Have you lost a loved one to prostate cancer? (select all that apply)