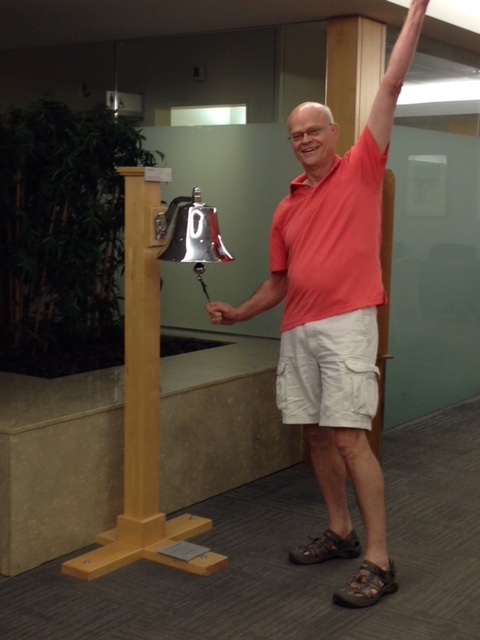 Hi. I'm Len Smith, a very "high grade" (Gleason 9) prostate cancer (PC) survivor diagnosed by biopsy on 5/3/2013, 5 weeks before my 69th birthday, and had a radical prostatectomy (removal of this prostate) on 6/5/2013. On 6/9/15 I received the bad news that I had a positive PSA, which could only come from PC that had metastasized outside the prostate bed before the surgery. And for 39 weekdays in the summer of 2015, I underwent radiation of the prostate bed at the University of Pennsylvania (Penn). Happily my PSA in October 2017, was undetectable, i.e., I'm most likely free of the PC, but like all PC survivors, I will have a PSA semiannually for the rest of my life as the PC can come back many years later.
I've been very active with the Alzheimer's Association (my mother and mother-in-law both died of it) for many years in spreading the word of when to get a diagnosis and what steps can be taken to reduce the chance of getting Alzheimer's. And now I want to bring awareness of PC to all men, but in particular advocating for:
Going to a urologist, not a primary care doctor, to have your PSA and prostate checked regularly, and why you should know your PSA.
Helping men to make the right decision regarding the cancer, not your sex life. As I said what I wanted from the surgery to my surgeon, "Number one—get the cancer. Number two--don't make my overactive bladder any worse. And number three--I'd like to retain my sexual potency, but from what I know, dead men don't have sex so get the cancer and I'll take my chances on what can be done being alive".
Don't argue with your urologist like I did about the dangers of a biopsy, which does have a fairly high risk of infection. Now I'll take an infection any day over prostate cancer.
I want to advocate for my fellow Vietnam vets to get their PSA/prostate checked regularly as two studies have shown that Vietnam vets get a much higher rate of the worst forms, known as "upper grades", of PC than Vietnam era vets that didn't go to Nam.
And finally I want to make those who get androgen deprivation therapy (your testosterone goes VERY low) aware of what to expect from it.
I've had a great career in health related fields, being president of the companies that brought out Lactaid and Beano, godsends for those with bowel diseases. I have a BA from Union College and an MBA from Rochester Institute of Technology, and I'm very happily married to Patti, with a son, daughter, two stepsons of 25 years, and six grandchildren ranging from 18 to 3, and still riding several thousand miles/year on a bike.
Click here to read all of Len Smith's articles on ProstateCancer.net.