Big Help From My Little Girl
I fell in love with my daughter Jessica on 6-2-89, the day she was born. Her mother and I went through Lamaze and planned a natural childbirth in a local hospital birthing room, a more laid-back atmosphere. Her birth came after a couple hours of labor, I was able to witness the entire birth and cut her umbilical cord, it was a bond formed that day.
Watching Jessica grow
Growing up we were inseparable, from building her a tree house in the backyard, to taking her for sled rides in the winter snow. She was diagnosed with ADD early in pre-school. I did not like the side effects of the drugs her pediatrician had her on, so I researched nutritional alternatives on my own. An amino acid called Gabba and tutoring got her off of Ritalin, and on to a more normal childhood. I would never physically discipline Jess, I opted for reasoning with her, which seemed to work.
I'll never forget her first day of riding the school bus to school. I followed the bus on my Harley and the principal came out to see who the rif raf was on the bike; after talking we became long-term friends. I was working shift work as an electrician, supervisor in a glass manufacturing facility which allowed me the flexibility to volunteer as a chaperone for many of her off and on-campus school events. Jess was always active in chorus and had perfect attendance. I was a volunteer coach for t-ball and coach pitch softball, but after a few years of Jessica giving away her glove to the children who didn't have one, I figured she didn't want to play. I asked her if so, which she didn't, so she ended her playing.
Lessons from my daughter
I learned much about nutrition while exploring options for Jessie's attention deficit, so by tweaking my own diet I was able to compete in natural bodybuilding. I was always athletic, and into working out, but the diet put the finishing touches on my physique. Jessica attended many of my contests and cheered loudest for her daddy. I was no longer allowed to visit her at her high school job at the local McDonalds due to intimidation of would-be dates. Even after her mother and I divorced, Jess was 19 at that time, and Jess and I were no longer living together, we would go bowling on Friday evenings, and to lunch every Saturday.
Through the hard & through the happy
My prostate cancer diagnosis came when Jess was 24, I was 55, she took it very hard. She was there for my for surgeries and as many of the 90 mile urologists trips for hormone treatments as she could be. September 2015 I had a pacemaker installed due to heart problems, which Jess was there for too.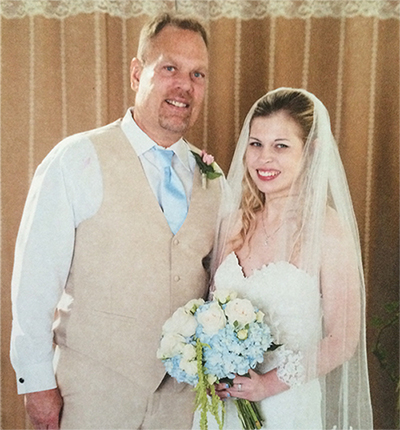 Jess moved back home a couple of years ago for a year after her mother was in a paralyzing motorcycle accident. I was very pleased she chose to move home with her daddy. One of my goals was to walk my daughter down the aisle in marriage, which I was able to do October 2017. We lost her mother in February 2018, which she took very hard. We just celebrated her 29th birthday together with her husband on 6-2-18.
A bright future
My next goal is to become a grandfather, which I am sure she is getting tired of me reminding her. Jessica is very supportive of my loving girlfriend, who is planning on moving here to Illinois from Long Island, NY. It has helped me to have my child, my girlfriend's love, and all the support through everything I have been through. Short and long-term goals have been a very useful tool just to get through the rough days.

Community Poll
Have you experienced side effects from androgen deprivation therapy (ADT)?