Confidence and Body Image
There's no doubt that a cancer diagnosis has a detrimental impact on every aspect of life, but in this article I wanted to focus on the impact on our confidence and body image and how we cope with that.
The impacts of different cancers
Regrettably breast cancer can often result in mastectomy or even double mastectomy, and the impact of that can be awful as far as body image is concerned, as well as affecting some women's sexuality in the same way that hormone therapy (chemical castration) can affect men.
Other cancers can lead to loss of limbs like my friend who had a rare form of bone cancer, which led to her leg being amputated. She copes amazingly well and seems to lead as normal a life as is possible.
Some people treated for cancer may have to have a colostomy bag, which I can imagine is very difficult to come to terms with. Do wearers shy away from public life as a result? Do they have to find ways to hide their bags, and what happens if the bag is full and they are out and about? I've no experience of that, so I can't answer my own questions.
Turning to prostate cancer
Turning to the specifics of prostate cancer, I know men who are permanently incontinent and have to wear incontinence pads as a result. That would be unimaginable and unbearable to me. I know that I simply wouldn't have coped.
In my case, I've found the impact of 4.5 years of hormone therapy seriously challenging both physically and mentally, and the impact on confidence and body image is very tough.
Trying to cope
I think being emasculated as a man and as an athlete is really hard to deal with and can impact your confidence. Loss of libido and sexuality is exactly the same. I no longer feel like a man!
Then I look at myself in the mirror and see the impact of drug-induced weight gain, and my hamster cheeks look like they are storing lots of food. Thanks Prednisolone; the impact of steroids is horrible!
Let's now think about how we cope with it, and I have one amazing example.
Celebrating our bodies
In 2018 I was asked to be a model in a fashion show to raise money for a cancer support charity. The event is an afternoon fashion show and evening gala ball. All the models are people who have been affected by cancer. All the outfits are supplied by fashion brands, and retailers and the models are "dressed" by professionals. It was the most amazing and uplifting event.
Earlier in 2021, I was asked if I would captain a catwalk for the event and, by accident, I ended up being a model again.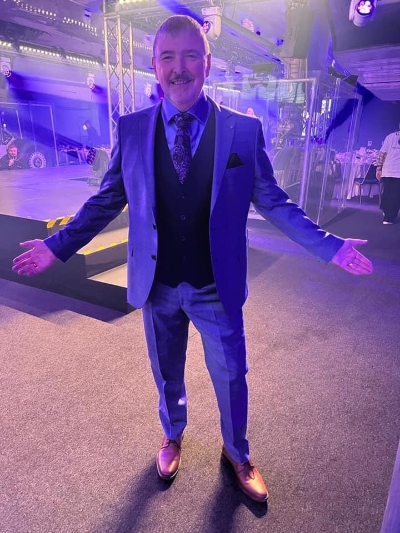 The fashion show catwalk is underneath the fuselage of a Concorde aeroplane at the local aviation viewing park, and the settings are incredibly dramatic. This is a massive event and can be very intimidating. Some models chosen unfortunately didn't feel confident enough to take part and withdrew, but those that did were amazing.
At the start, perhaps a little shy and intimidated; but at the end, blossoming and growing in confidence and, on the day, looking absolutely spectacular having had their hair and makeup done by professional hairdressers and makeup artists. They looked and felt like a million dollars.
An amazing group of people
My friend took to the catwalk with her prosthetic leg and absolutely shone like a beacon and wowed the 600+ audience. She's a very brave and inspiring young lady.
The 2018 and 2021 shows also raised over £450,000! Brilliant outcomes both financially and in respect of restoring body image and confidence to an amazing group of people who will now be friends for life. As the organizer says: it helps people embrace their bodies, which may be broken but deserve love, respect, and admiration.
This article represents the opinions, thoughts, and experiences of the author; none of this content has been paid for by any advertiser. The ProstateCancer.net team does not recommend or endorse any products or treatments discussed herein. Learn more about how we maintain editorial integrity
here
.

Community Poll
What influences your decisions when choosing a physician? (Select all that apply)