Incontinence and the High Altitude Challenge: Climbing
Will's continues the story from Incontinence and High Altitude Challenge: Backpacking where he shares his experience managing incontinence on a rock climb trip.
Three days after returning home after backpacking with my wife, my son, Devin, and I started our rock climbing trip. While I'd done some local climbing starting a few months after my surgery, three or four days of multi-pitch climbing in Yosemite would be an altogether different kind of test, not just in terms of incontinence, but for my whole body. I'm 70; he's 39. Can I do it?
Prepping for our multi-pitch climb
We camped in Tuolumne Meadows and decided to climb in that area for three days, with a fourth and last day possible in Yosemite Valley. Again, I had packed as if I would need to change protection at least a couple of times a day. Climbing is a demanding core exercise so I couldn't take any chances.
Forgetting to worry about leakage
On the first day, we did two amazing climbs, one on Lembert Dome and one near Tenaya Lake, and once again I experienced very little leakage. Was it the altitude? Was it that staying hydrated in the high, dry conditions required my body to absorb all the liquid consumed?
Due to high winds, we were only able to do one climb on the second day, again near Tenaya Lake, but the results were the same as the first day. The physical intensity of climbing hundreds of feet was kicking my butt, but I was able to forget about leakage and concentrate on the demanding task at hand. What a gift!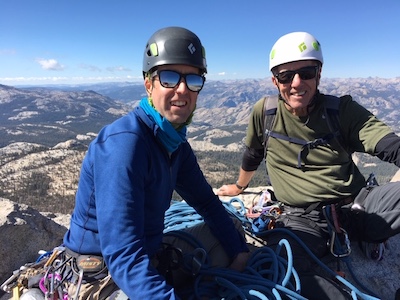 A spectacular experience with my son
Day three was the biggest test of all. Our goal was to climb Cathedral Peak, a five pitch, seven hundred foot climb that topped out at 11000' on a peak little bigger than a coffee table. The weather was outstanding, our confidence was high, and after a three mile uphill approach hike, we started up the rock.
Five hours later, as we sat on our tiny perch overlooking thousands of square miles of the Sierra Nevada range, we were one happy father-son team. We rappelled off the peak, walked off on a steep trail to the main trail and, after a total of 10 hours, we were back at the car, completely exhausted but triumphant.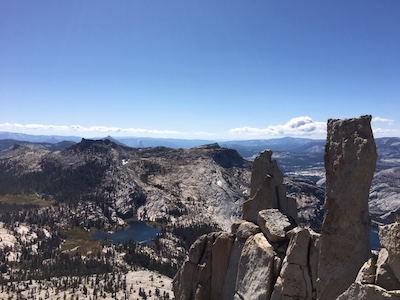 Celebrating my recovery
And guess what? Two shields all day, the second when we were back on level ground. Altitude? Dehydration? The mountain gods smiling on me? Some research to be done, but, as with backpacking, my confidence about rock climbing was soaring.
When I chose surgery as my treatment for prostate cancer I knew I was rolling the dice. How much would my lifestyle be compromised by the side effects? It's almost 18 months since my surgery and here's what I know: my PSA is nearly undetectable and I can still climb mountains, with or without a rope. I'll take it.
This article represents the opinions, thoughts, and experiences of the author; none of this content has been paid for by any advertiser. The ProstateCancer.net team does not recommend or endorse any products or treatments discussed herein. Learn more about how we maintain editorial integrity
here
.

Community Poll
Have you made personal connections through your journey with prostate cancer?