An update from 2020 story, Still upright with
My proststate cancer diagnosis
A recap of my saga, In 2010 a PSA came back at 4.7, which was probably PCa, and I did not follow up on it until October 2014. It was 555.2, 10 days later 633 and in 12/2014 at 840.2 My 1st MO Dr. Vora said that I was diagnosed at the right time as the CHAARTED data was being released. It showed that combining ADT and Chemo gave the men 17 more months.
Prostate cancer treatment
So, in 01/2015 I began Lupron/Casodex and in Feb Taxotere
About 4 chemos in, Vora spoke to the Tumor Board about what to do in my case; tolerating it well but PSA was still elevated. Vora saved my life when he told me "Dr. Kam I'll give you more chemos until you tell me to stop or the #s plateau" So instead of the normal protocol of six, I had 15 in 2015 and the PSA went down to 0.7 at the end of that year.
Started Abiraterone in 01/2020 as the PSA hit 11.7, it failed in Sept 2020 and Xtandi then failed in 2 months. My new MO did a 6-session Taxotere rechallenge in 2021 and the PSA dropped to 2.2 but then kept rising. I began Cabazitaxel on 11/2021 and did eighteen sessions, but the PSA still kept rising. A PSMA scan showed an SUV Max at an insanely high of 87.5 in the L of the Prostate, descending into the Perineum. Met with Dr. Mariscal, an RO, and he set me up for IMRTs
IMRT experience
I just completed the 14th of 28 planned IMRTs and next week I will get a PSA done to check for, hopefully, a drop.
I got some of the AIS cancer center radiation staff to sing with me, and here is the clip of it: https://photos.app.goo.gl/cZk6uw9QDemT9RAJ8 Needless to say, that post blew up my Social Media. Now, we have to top it on 04/26, the day of the last IMRT session. I have kept up my daily workouts and hiking.
Doing well after prostate cancer journey
I put in 648 miles in 2022 and my goal for 2023 is 1200, and I am already at 433 as of today. I signed up for the Trail Blaze 28-mile hike on the Pacific Crest Trail in Big Bear, CA in May to benefit the Make-A-Wish Foundation.
I'm still working as a dentist, which I really do enjoy, and that helps keep the Lupron Blues at bay.
Life is still Beautiful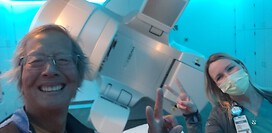 This article represents the opinions, thoughts, and experiences of the author; none of this content has been paid for by any advertiser. The ProstateCancer.net team does not recommend or endorse any products or treatments discussed herein. Learn more about how we maintain editorial integrity
here
.

Community Poll
Are you interested in news and updates about prostate cancer treatments?