Digital Health vs. Digital Therapeutics
Last updated: August 2021
Technology is now a common way to deliver healthcare. Digital health products help prevent, diagnose, or manage chronic conditions. Devices range from wellness apps to artificial intelligence and wearable devices.
Not all digital health products are the same. Some may not have clinical evidence that they work. Other products have evidence-based benefits in specific diseases. Evidence-based digital health products are "digital therapeutics."
Digital health products can improve healthcare delivery and outcomes. But it can be hard to identify ones with proven benefits. Digital health groups have developed a framework to help understand these technologies.
How are digital health, digital medicine, and digital therapeutics defined?
Learning about the key features of digital health, digital medicine, and digital therapeutics can help you understand their similarities and differences.
Digital health
Digital health is a broad category. It includes all technologies used for health-related purposes. This includes online lifestyle platforms and wellness apps. Examples include step counters or meditation apps. Clinical operations systems also use digital health products. Digital health technologies store or transmit health data.1,2
Digital health products do not need clinical evidence that they work. Government bodies may not regulate them as medical devices. This is because digital health products have a low risk.1,2
Digital medicine
Digital medicine is 1 part of digital health. It refers to products that measure or intervene in human health. Digital medicine products can help monitor and diagnose certain conditions.1
Digital medicine products must have clinical evidence that they work. Government groups regulate some of these products as medical devices. This is because digital medicine products have more risk than digital health products.1
Digital therapeutics
Digital therapeutics (DTx) is 1 part of digital medicine. It refers to technologies that prevent, manage, or treat a specific disorder or disease. People can use DTx products alone or with other treatments.1,3
DTx products must have clinical evidence of benefits and safety. Government agencies certify and regulate DTx products. This is because DTx products have a higher risk. Regulation helps make sure they work as intended.1,3
What are examples of digital health and digital therapeutics?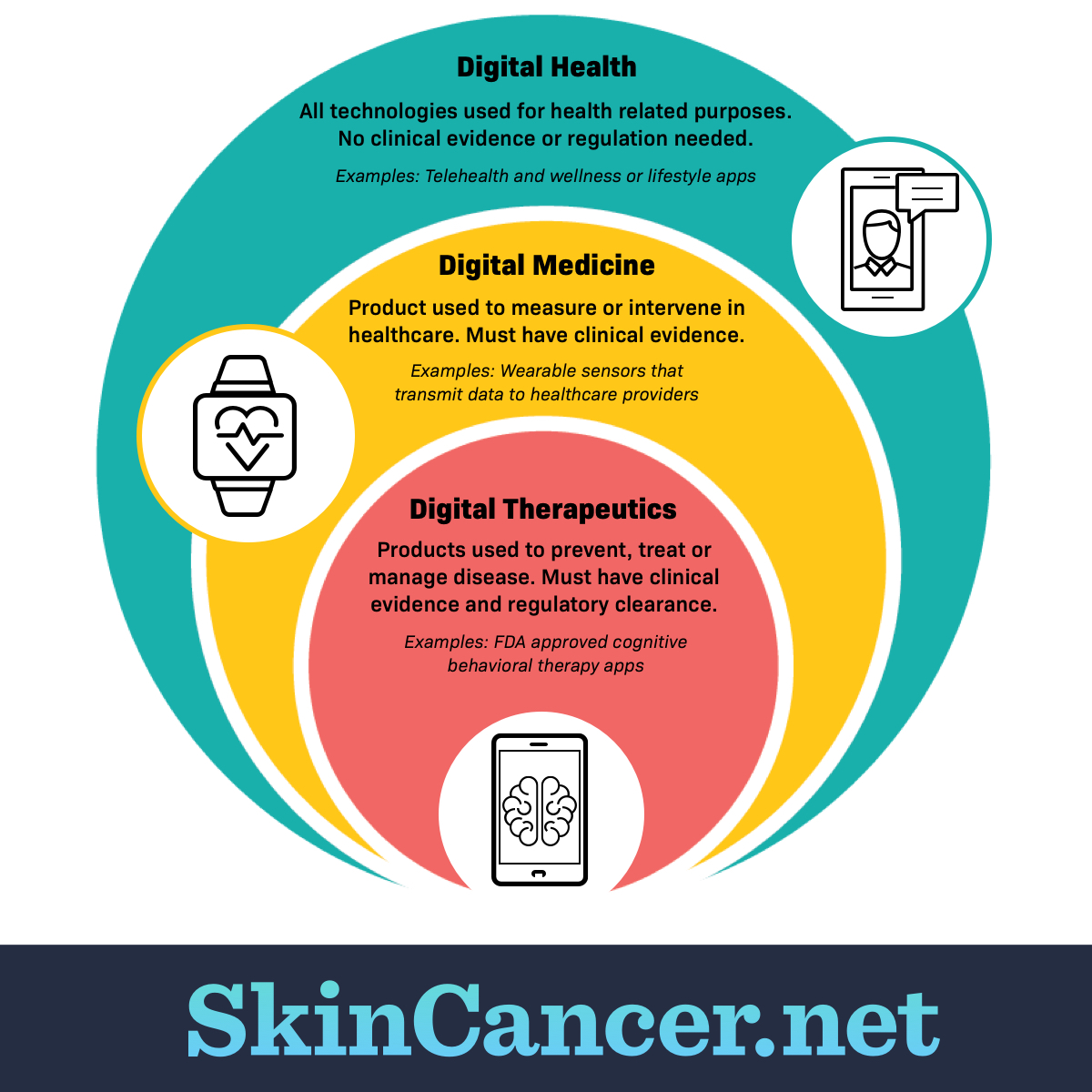 Digital health
Some digital health products store health information, such as:1
User-facing technologies
Health Information Technology
Consumer health information
Other digital health products transmit health information, such as:1
Telehealth
Decision support software
Clinical care management
Digital medicine
Most digital medicine products make health measurements, such as:1
Digital diagnostics
Electronic clinical outcome assessments
Remote patient monitoring
Other digital medicine products intervene based on these measurements. For example, certain digital companions can make decisions about healthcare.1
Digital therapeutics
Digital therapeutics products use software to prevent, treat, or manage a certain condition. This includes:
Behavior programs to manage type 2 diabetes
Self-care programs to treat mental health disorders
Artificial intelligence to nudge people to take medicines
Why categorize digital health products?
Defining categories of digital health helps everyone use products that fit their needs. Digital health technologies and digital therapeutics can improve health outcomes. But it is hard to know the risks and benefits of each product when there are so many on the market.1

These categories do not mean that some digital health products are more useful than others. Instead, they help people understand the digital products they are using. They also enable people to make better comparisons between different products.1

Clearly defined categories can help support:1
People who want to use digital products that fit their health needs
Doctors who want to suggest products to their patients
Healthcare systems that use these technologies
Companies that are developing digital health tools
This article represents the opinions, thoughts, and experiences of the author; none of this content has been paid for by any advertiser. The ProstateCancer.net team does not recommend or endorse any products or treatments discussed herein. Learn more about how we maintain editorial integrity
here
.

Community Poll
Has prostate cancer changed your life? (Select all that apply)