I live in a southern suburb of Manchester, UK, called Altrincham. In fact, I'm the current Provost (think Mayor) of Altrincham and I've been involved in the Altrincham Business community all my life serving in many key roles in our town including Chairing our Chamber of Commerce as well as the Forum that set planning policy for our town center on behalf of the people of the town.
Priorities changed after prostate cancer
It's been a real labor of love as I'm passionate about my town and have helped in its recovery from the global financial crisis of the 2000s.
However, when I received my stage 4 cancer diagnosis in May 2017 priorities changed and I largely withdrew from my work in the town to focus on building memories for my Grandson and to look after myself a bit more. In fact, when I was first asked to be Provost in 2018 I said no as I just didn't have the energy for the role.
When I was asked again in 2019 I thought I'd better accept though just in case they never asked me again!
Appointed Provost of Altrincham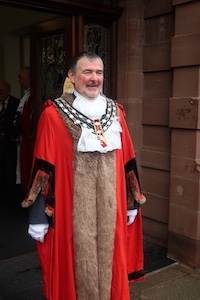 When I was appointed Provost in September 2019 it was a very proud moment for me and my family but I decided that I had to use the role for something really positive.
We'd been painting the town pink for a week for a few years to raise awareness of breast cancer so I decided that I was going to paint the town blue to raise awareness of men's health in particular prostate and testicular cancers and men's mental health and it finally happens the first week in November to fit in with Movember.
Painting the town blue for men's cancer awareness
From 2-7th November, as of this writing, we will have buildings illuminated in blue. Shops and offices illuminating their windows/shop fronts blue. We hope to see café's selling special blue themed cakes and bars selling special blue-themed cocktails. An optician will have a window display showcasing the best of their blue glasses and their internal displays will be lit up in blue. They are also donating 10% of every sale of a pair of blue framed glasses!
All businesses in the town have been offered awareness talks delivered by myself and others if I can't do them.
Fundraising and walking for charity
We are doing some fundraising as well split between three charities, Prostate Cancer UK, MIND (mental health charity), and Orchid (a testicular cancer charity).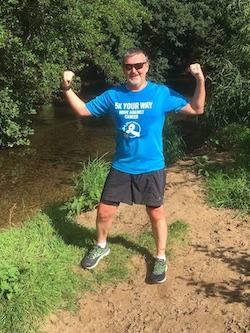 The highlight of the week will be a self-guided Heritage/Health walk taking place on Saturday 7th November. COVID has made this rather more difficult than expected but we have found a way to make it happen in a COVID compliant way.
The walk will take in some interesting Heritage sites of the town but also incorporate health facts to raise awareness. One of the sites is a subterranean bar called Mort Subite that used to be the town hospital's mortuary and where you can often hear ghost stories being told! Another site is the bravest little street in England. Out of a street of 60 houses, 161 men volunteered in WW1, and 29 of them were killed in battle.
One section of the walk is 1km long, 1,000m and in the walk narrative, this signifies the 1,000 men who die every month of prostate cancer in the UK. Key awareness facts are scattered throughout the route.
Why is awareness so important?
Why is this important? If I'd known that I could have had a PSA blood test, indeed had a right to one from age 50, and had had one every year from 50 my prostate cancer would have been caught early and I could have been cured instead of being diagnosed terminal at age 60, in 2017.
This is why, without a screening program, awareness is so vital and I'm very proud to facilitate this awareness week in my town. I hope it will save lives!
This article represents the opinions, thoughts, and experiences of the author; none of this content has been paid for by any advertiser. The ProstateCancer.net team does not recommend or endorse any products or treatments discussed herein. Learn more about how we maintain editorial integrity
here
.

Community Poll
Are you interested in news and updates about prostate cancer treatments?