On 30th August 1980 I married my first and only love, my amazing wife Tracey. Our Ruby wedding anniversary will be a very strange and muted affair as we live in Greater Manchester in the UK parts of which have increasing cases of COVID-19 and therefore the whole of GM has been placed under increased lockdown measures. This means we are unable to meet family or friends in our own home or garden. Of course, this means no family celebration of what, for me, may well be my last milestone anniversary. I'm not giving up on getting to our Gold anniversary but the odds are stacked against me. I'm 3 years into a stage 4 diagnosis given to me aged 60 and an average prognosis of 6-7 years so 13 years is going to be a big ask but who knows?
A tribute to my wife
COVID has denied many people the opportunity to celebrate key milestones and birthdays but it seems even more stark when living with a reduced life expectancy.
I thought I'd write this article as a tribute to my wife and the partners of other men who are living with prostate cancer.
Her unwavering love and support
In our 40 years of marriage, we've barely been apart for more than a few days. Tracey has given me two amazing, gifted, and talented children and, to date, two wonderful grandchildren who I utterly dote on. It breaks my heart and tears me apart that I won't see as much of my grandsons growing up as I would have expected to, they really are the apple of my eye.
In May 2017 my runners "groin strain" was investigated by a sports injuries doctor. We had a prearranged MRI scan that clearly showed something untoward resulting in blood tests and chest x-ray there and then and, the following day 9th May 2017, a CT scan. The evening before that scan was awful but she held me close and reassured me.
The following evening I was just leaving my running club when the sports doctor called me to tell me he was 99% certain that I had prostate cancer and needed more tests urgently. I was 15 minutes from home and drove there in floods of tears to break the news to Tracey. She held me tight whilst we both cried our hearts out but she reassured me. I told her to go and find someone else because I couldn't look after or provide for her anymore but she held me tight and reassured me (as well as calling me an idiot).
My wife has been next to me through it all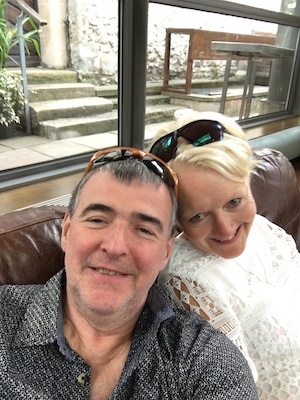 She sat with me through days of tests, biopsies, and scans. She sat with me when the urologist told us the cancer couldn't be cured and I might only have two years to live but she held me tight and reassured me.
She was with me when we first met my oncologist and we heard the plan of treatment. We went across the road to the Maggie's support center, sat in the garden, and cried but she held me tight and reassured me.
My love, my rock, my guardian angel
For the three years since then, she's the only one that has seen me down and crying, terrified of what the future might hold but she's picked me up and put me back together. She's my love, my rock, my guardian angel, the mother of my children. She holds me tight and reassures me.
I have no idea how she's coped for the last three years as a stage 4 prostate cancer diagnosis changes the lives of our partners just as much as it does us. I know one thing, I couldn't have got through the last three years without her and I love her now more than I did 40 years ago. I'll do my best to be there on 30th August 2030, my love.
This article represents the opinions, thoughts, and experiences of the author; none of this content has been paid for by any advertiser. The ProstateCancer.net team does not recommend or endorse any products or treatments discussed herein. Learn more about how we maintain editorial integrity
here
.

Community Poll
What influences your decisions when choosing a physician? (Select all that apply)