Three (Not Dead Yet) Men Walking
Last updated: October 2021
Twitter can be an incredibly toxic place with some pretty awful comments made by so-called "keyboard warriors," but despite that it can also be an incredibly supportive place, especially the Twitter cancer community.
It's also a place where cancer patients can be vocal and raise awareness, as well as a platform to boost fundraising activity.
Boosting awareness
Since my cancer diagnosis in May 2017 I've become much more active on Twitter, and I like to think that my awareness raising has resulted in lots of men going to get PSA tests done and potentially saved some lives.
In 2018 and 2019, I had fundraising activities and used both Twitter and Facebook to boost donations to my charity of choice in those years: Prostate Cancer UK.
New friendships
I've also made many virtual friends in the cancer community, but the best bit about that is when you finally get to meet those virtual friends face-to-face and share your cancer journeys and support each other.
These friendships are what led to our recent three (not dead yet) men challenge!
I connected with Liam Bergin a while ago, and we discovered that we only live 30 minutes away from each. So we've met up a few times, met each other's wives, been out for walks with our dogs, and had a few beers.
A terminal case
Liam has a brain tumor known as a Glioblastoma, which is a really difficult cancer and, unfortunately, is terminal in Liam's case. Sadly, survival rates are dreadful with only 5% getting to 5 years. I think it's also very poorly funded from a research viewpoint, meaning that advances in treatment are nothing like those in other tumor groups.1
Liam is fundraising for Brain Tumour Research and this year has already cycled coast to coast in the UK and has loads of other fundraising activities going on. So far, as of my writing this, he has raised nearly £17,000!
Amazingly we discovered, during one of our walks, that my Daughter in Law is the head of finance for his department at Manchester University. Even more amazingly, we are both going to be models in a fundraising fashion show in October. If you have a look at our picture, you'll see why it's so amazing that we are being models!
Forming another bond
Liam and I then came across Chris Johnson, who has a gastrointestinal stromal tumor that has unfortunately metastasized, and his prognosis is poor. Very sadly, Chris has young children, with whom he desperately wants to spend more time.
Chris is running the London Marathon to raise money for Children with Cancer. He's absolutely brilliant at generating media coverage, using social media extensively to promote his fundraising and generate press and TV interviews and articles. He recently tweeted that if his tweet got 3,209 likes, he would climb England's highest mountain, Scafell, which stands at 3,209 feet.
Over the course of a few days, this quickly escalated to the three of us, all terminally ill with different cancers, agreeing to meet up from all over the country and climb Scafell together.
Making the climb together
On the morning of the climb, Chris had to stop off on his journey to do a live TV interview on national TV about his story. The interview did wonders for his fundraising, which as of my writing this stands at just under £14,000. Add in my fundraising of just under £10,000, and we aren't doing too badly given what we are living with.
The climb was much tougher than we expected. Liam and Chris were on active treatment phases, and I struggle now due to 4+ years of hormone therapy. I was also the old man of the party!
Reaching the summit
We set off in dull overcast weather and never once saw the summit until we reached it. From 2,500 feet onwards, we were in the clouds and it was very wet and cold. But after 3 hours of relentless climbing, we got there.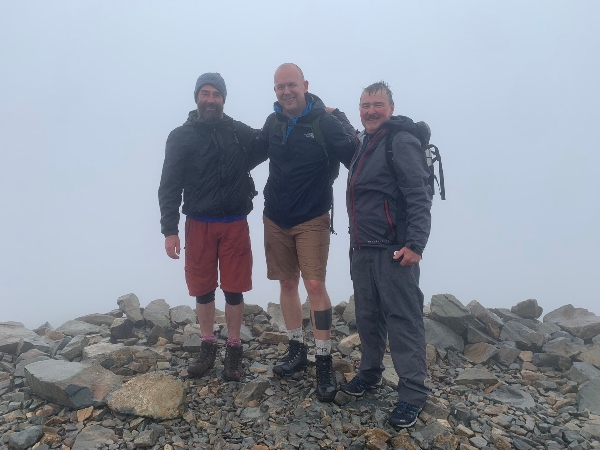 My message from this article is that we are three men living in difficult circumstances but still doing our best to live a full and active life. The three of us are firm believers that remaining as fit as possible will help us live longer. Along the way we are doing our bit to help the future generations of cancer patients by fundraising, in the hope that we can help others not have to go through what we are, and to live active lives.
This article represents the opinions, thoughts, and experiences of the author; none of this content has been paid for by any advertiser. The ProstateCancer.net team does not recommend or endorse any products or treatments discussed herein. Learn more about how we maintain editorial integrity
here
.

Community Poll
What influences your decisions when choosing a physician? (Select all that apply)