Stay the Course: Movember's True North
ProstateCancer.net sat down with Movember to talk about the Movember movement, bring awareness to men's health, and introduce Movember's new True North online platform, a set of resources and tools for men with prostate cancer. In Part II of this interview series, Movember explains how True North can aid men when navigating prostate cancer.
What is True North?
Movember is the world's leading men's health charity, focusing on prostate cancer, testicular cancer, mental health, and suicide prevention. Movember has funded over 1,250 innovative programs, and True North is the most significant global investment made to improve the quality of life and care for men with prostate cancer and their families. Our True North website aims to be the world's go-to resource to educate, empower, and encourage.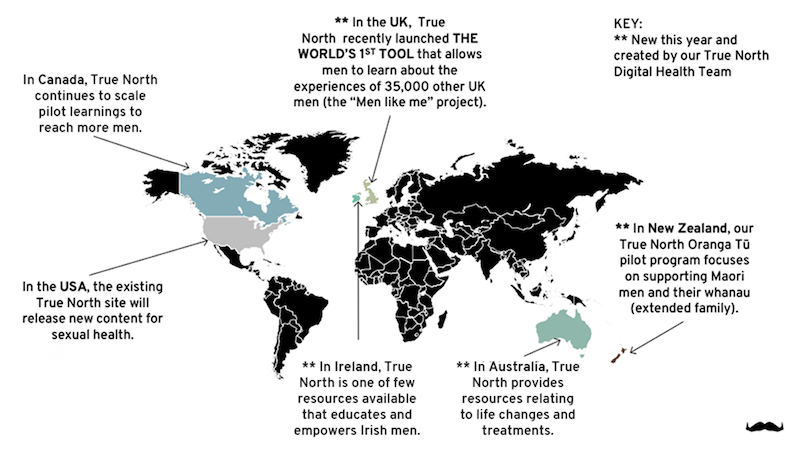 The inspiration behind True North
Today, when men with prostate cancer want to understand the life changes they are experiencing after treatment, they have to read through a lot of information from multiple sources. This is unacceptable because it is overwhelming and time-consuming to find relevant, reliable information.
We are creating a free-to-access global digital solution that will reduce the burden from the mental and physical side-effects of prostate cancer treatment and empower men to take further action to improve their health.
So, True North takes a human-centered design approach to get a deep understanding of a man's journey, challenges, and opportunities through a variety of methods including a literature review, focus groups, and one-to-one interviews.
"There are so many options, so many resources, and the whole Movember movement and this True North project are just great resources for men and their families and their friends to access to get a better understanding of what kind of situation they're dealing with -- with a diagnosis of prostate cancer." --Margaret, partner
What makes True North unique?
Movember has a wide breadth of clinical and academic partners and multi-disciplinary collaborators that have a deep wealth of expertise in prostate cancer. Over 14,600 men have participated in 27 national True North survivorship research projects in areas such as treatment decision support, sexual wellbeing, exercise and diet, and urinary and bowel. These programs ensure that the True North content is evidence-based, relevant and the experience is truly engaging.
How can men use True North for prostate cancer?
Men can go to our True North site for articles and videos about prostate cancer treatments, possible changes to their lives afterward, and some resources to guide next steps. In True North USA, men can also track their PSA levels and symptoms, and compare their symptoms with the broader True North USA community. We're continually adding new features and are excited to build out new multimedia content, activities, and resources focusing on sexual wellbeing next year.
"That is something that's been, a challenge lately. And so creating that awareness and making sure, guys are doing what they need to do to keep this disease from happening. And one of the things to me that is so exciting about True North is this focus on getting men to understand what this disease is about, what they can do to prevent it, and what they can do once they get a diagnosis." --David, man living beyond prostate cancer
Find guidance with True North
A prostate cancer diagnosis is a new chapter in your journey, and True North can support and guide you. Want to get involved? Here's how to do it:
Go to True North USA or search for "Movember True North" in your browser to find and share the website in your country.
Send us a note through the "Contact Us" form here if you want to join our community or give feedback.
This article represents the opinions, thoughts, and experiences of the author; none of this content has been paid for by any advertiser. The ProstateCancer.net team does not recommend or endorse any products or treatments discussed herein. Learn more about how we maintain editorial integrity
here
.

Community Poll
Have you made personal connections through your journey with prostate cancer?