Patti's Caregiving Story: Becoming My Husband's Caregiver
For awareness month, ProstateCancer.net spoke with Patti Smith, partner of community advocate, Len Smith. Patti opens up about her experiences as a caregiver to someone battling prostate cancer and the advice she would pass along to other caregivers.
Len through Patti's eyes
My name is Patti Smith and I have been married 26 happy years this past July to Len, a prostate cancer survivor. When we were married, Len stepped into a step-father position of my two boys who were then 8 and 11. Len's son and daughter were already through college and working when we were married, so this was a big decision for him, and he stepped happily right into the new role.
Today I can say that I love most about Len is his positive attitude. I've seen him mad a few times but it is not a common occurrence. He is always happy to see you or share a part of his day or a new adventure. At the end of most days we talk about our day or what we saw, who we met or what is bothering us. We can talk to each other openly and not worry if it will be misinterpreted. Honestly, I feel so lucky to have a positive, caring, loving relationship.
I also admire how Len loves people. Our grandson Matthew said to him, "Papa you can talk to anyone" and he does!
What does "caregiver" mean to you?
I'm a wife, mother, grandmother, daughter, sister, friend, and have worked in the healthcare field, so I wear and have worn many different caregiver hats and they are all different in some way. My idea of a caregiver is a guide, an advocate, a guarantee of help, a shoulder to lean on or just an ear to listen. One who can be one step ahead if needed and be available but not smothering.
There is a lot of emotion in the word "caregiver" for me for I lost my mother to dementia in 2010 and helped in her care. Her care needs consisted of her daily living activities, dressing, bathing, and feeding. Towards her later days she still could walk with an envious posture and was always beautifully put together. Looking at her you would not know there was anything wrong.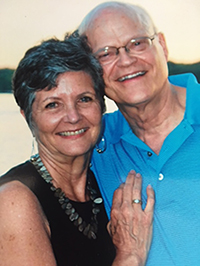 On the opposite side of this is caring for my granddaughter. Every Monday I become her caregiver which is a total joy! I still help with activities of daily living, but she is learning and changing every week. She will be 4 years old this month.
Len has needed a caregiver over the years more than both of us have expected, but he is an easy patient. Most times it is just being an extra set of ears at a doctor's office or being near until he is able to get out of the hospital and back on his feet. I think his least favorite thing about needing a caregiver at times is when I need to be the driver for a few weeks! As long as communication is flowing it has been easy.
What challenges have you faced as a caregiver?
When Len called to tell me he was just told he had cancer it was the first time I heard fear in his voice. But as always, he jumped in and took charge. We met with an oncology group and a prostatectomy was decided upon. The operation was a success and the surgeon felt the cancer was removed. Later tests showed that the cancer had been in the surgical margin and he was lucky it was contained. The surgeon was also able to save some nerve bundles so he did not see any changes physically once he healed from his surgery.
Two years later he had a small rise in his PSA reading and after consultation with the oncology group he went through 39 radiation treatments to his prostate bed. He drove himself to each treatment and connected with the other men who were there for the same treatments. His local Urologist did recommend that he have Androgen Deprivation Therapy (ADT). The therapy was one shot (many men have continued shots) that stopped all testosterone in his body and plunged Len into depression.
Read the continuation of Patti's story in Patti's Caregiving Story: Lessons from Depression and Self-Care.
If you are a partner or spouse supporting someone living with prostate cancer and would like to share your story, you can by going to ProstateCancer.net's share your story submission page. Tell us how you support your partner through diagnosis and treatment and what advice you would give to others facing prostate cancer.

Community Poll
Are you interested in news and updates about prostate cancer treatments?